Tri-State Fabricators heads confidently into its third generation of family leadership
Sound business planning positions Tri-State Fabricators Inc., Amelia, Ohio, for future success.
Many entrepreneurs hold the belief that through hard work you can make your own good luck. While statistically difficult to verify, the belief does hold some merit among hardworking folks. Metal fabricators know that if you do a job well, customers will remember you for it.
In a way, Tri-State Fabricators Inc., Amelia, Ohio, has done that over its 34 years. A series of wise and timely decisions have helped the company achieve $7 million in annual sales with momentum and manufacturing space to accommodate more in the coming years.
"Over the years we have basically put money back into the business, buying good equipment and investing in our employees," said Tri-State President Rick Vogt. "The other thing that separates us from a lot of our competitors is that we are truly a one-stop shop under one roof, with half of our shop being metal fabricating and the other half being painting and powder coating."
This story recounts how they got to this point.
The Family Comes Together
For many family-owned companies, generational involvement is kind of linear: The older generation starts a business, and the younger generation follows that path. The Vogt family didn't follow a straight line, however. That line to metal fabricating had more bends than the exhaust system for a European luxury sports car.
Jay Vogt began a career in manufacturing in the 1960s when he went to work for Honeywell in Minnesota after serving in the armed forces. He soon decided he wanted to do his own thing and started a tool and die shop, which at one time grew to 35 employees. After enjoying some business success and fruitful investing, he stepped away from manufacturing for a bit. The pull, however, was great, and he went to work as a plant manager for a roll forming company in upstate New York in the late '60s.
He later had manufacturing leadership positions that took him to places such as Highland Park, Ill., and Cincinnati. By the mid-1970s, the moving had come to a stop. The family wanted to put down some roots.
Jay opened Vogt Manufacturing with two partners and began manufacturing medicine cabinets. That lasted for a few years, but the business never really took off. That led to the Vogt family jumping into general metal fabricating for the first time.
Rick had graduated from high school back in Illinois in 1974, and when he joined his father in Ohio, he didn't really have a clear path. He was more into hot rods and motorcycles than collegiate studies, as his one semester at the University of Cincinnati proved. But he did learn that he liked working with his hands, so he went to work for a local valve manufacturing company as a general laborer.
"I got an education there that you couldn't go to college for," Rick said.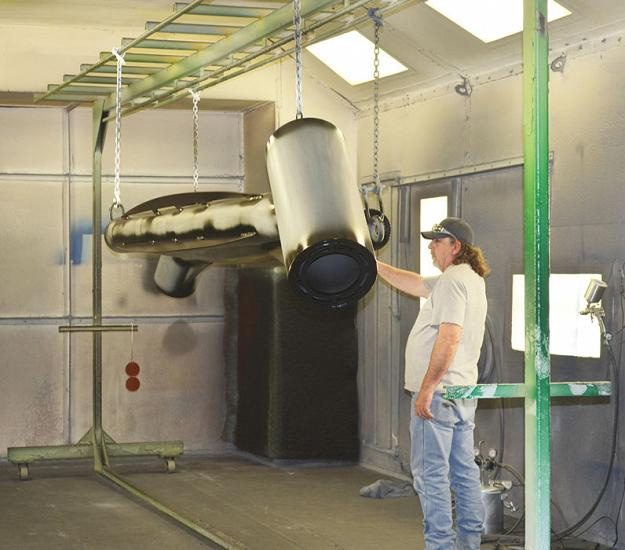 Figure 2
Even though painting draws much more regulatory attention than powder coating, Tri-State Fabricators still remains committed to offering it to its customers.
He graduated from sweeping floors to machining and welding over a short period of time. He then joined the inspection department and later quality assurance. The lack of a college degree kept him from further advancement in the company, however.
He then went to work for a Cincinnati machine tool builder as an inspector. After a couple of years doing that, he wanted out. With the responsibilities of a family and a commitment to working part-time in the evenings for Vogt Manufacturing, he knew where he was going to end up.
"My dad wanted me to come work for him, and I wanted to be my own boss. Plus, my brother Jeff was already working there," Rick said. "So I ended up taking a pay cut to work for him."
That lasted for a while until the family convinced Jay to close down Vogt Manufacturing. Tri-State Fabricators was born in 1983, and Rick, his brothers Jeff and Chris, and his parents each owned 150 shares. (Today Jeff oversees engineering, and Chris supervises laser cutting and other CNC operations. Rick's son Joe is vice president of operations.)
"We were going to make it work no matter what," Rick said. "We worked around the clock. We did metal fabricating at first, but then people would ask if we could paint the parts."
Family commitment made the fabricating work, but would it do the same for finishing?
Not Yet Finished
Jay was hesitant to jump into painting, especially with the idea of purchasing the equipment. Like a true metal fabricator, Rick suggested building their own booth and oven, working after-hours to avoid conflict with work dedicated to paying customers.
The family approved the idea, and Tri-State Fabricators was officially involved in the finishing game. Rick threw himself into the task and learned all about the application and curing of wet paint. He even taught himself the finer points of silk-screening when customers asked about this service.
Tri-State doubled down on its finishing activities in the 1980s when a greeting card company approached them about powder coating their retail fixtures that appeared in stores like Kroger.
"I'm like, 'Sure. We can do that,'" Rick said. "I just decided I was going to figure out how to do this."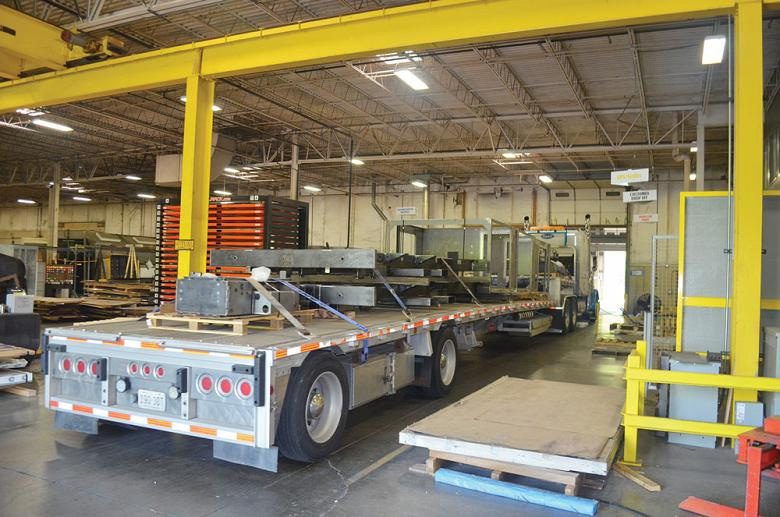 Figure 3
Raw material is dropped off and parts are loaded for shipping in the middle of Tri-State Fabricators' facility.
So the company bought a powder application gun and gas-fired oven to experiment with. They found out what others were finding out about powder coating: It was a pretty cool technology. Using electrostatic principles, powder material "sticks" to charged metal parts, maximizing application effort and material usage. High oven temperatures then cure the parts to create a durable and attractive coat.
Pleased with early results from powder coating application, Tri-State started to assemble the makings of a powder coating line the same way it pulled together its first paint operations: hard work, metal fabricating talent, and used parts. That was the case until Rick stumbled upon a gigantic powder coating system a large OEM was clearing out because it couldn't get it to work correctly.
"I couldn't make a system for the price that they were selling it for," Rick said.
He purchased the system and quickly learned that the cause of the errors was related more to the owners of the technology rather than the technology itself. The automatic washer was not set up correctly, which affected the cleanliness of the parts to be powder coated, and the ovens were wired incorrectly, causing the warmup time to last as long as four hours.
About the only misfire Tri-State made at that time, Rick said, was having a three-stage parts washer made of carbon steel. The company replaced damaged parts over the years with stainless steel ones and recently replaced the entire washer with a newer model.
The finishing operations remain a key part of the Tri-State business (see Figure 1). Almost all parts painted or powder coated at the Amelia facility are also fabricated there. About 20 of the company's 70 employees work in the finishing department.
"People like to send us their stuff and just deal with Tri-State, from fabricating to finishing to assembly. We can ship it to them on our own trucks," Rick said.
For painting requirements, Tri-State has a conveyorized line with a 48- by 96-inch opening and a large paint booth that is 12 by 16 by 27 feet (see Figure 2). For powder coating, the company has a conveyorized line with an automatic three-stage washing and phosphatizing system that can accommodate parts just under 5 by 4 ft. and up to 12 ft. long. For larger parts, it has a washing and phosphatizing booth that is 10 by 30 by 25 ft.; two walk-in powder coating booths, one 8 by 10 by 18 ft. and another 12 by 14 by 30 ft.; and a 10- by 10- by 25-ft. curing oven.
Rick said the company primarily sprays to waste because of all the color changes it performs in a day. The company actually has some customers that do their own powder coating, electing to spray one or two main colors and relying on Tri-State to handle small color runs that might otherwise slow down a high-production operation.
The finishing operation certainly has come a long way since it was in the basement of a six-story building Tri-State once occupied on Gilbert Avenue in Cincinnati in its early days. While that building wasn't the ideal setup for metal fabricating, the Vogt family has made some smart choices when it comes to relocating and ultimately building its current 125,000-sq.-ft. home in Clermont County.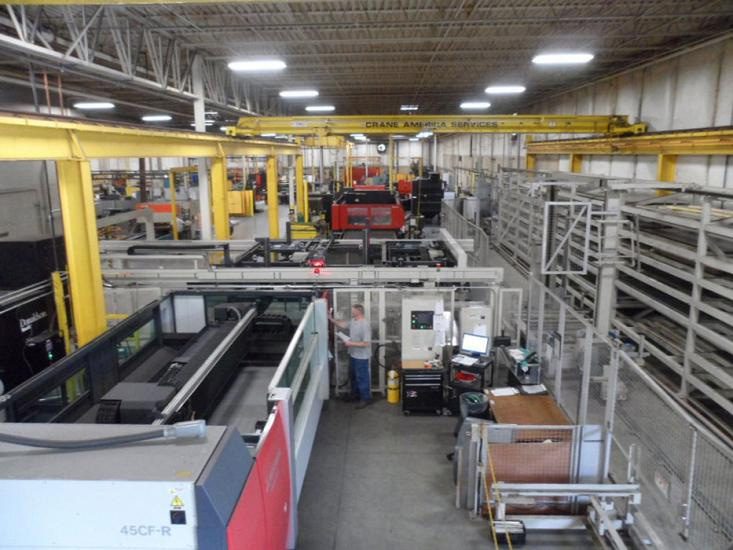 Figure 4
The 49-shelf automated material storage and retrieval system attached to the shop's Mitsubishi 3015 eX CO2 laser cutting machine helps to keep raw material organized and out of the way.
Location, Location, Location
After being in that old building for a few years, the Vogts bought an old dairy building in the Madisonville neighborhood of Cincinnati. It was a 10,000-sq.-ft. facility and had two lanes where dairy trucks used to drive right into the middle of the building—a feature that would be replicated in Tri-State's future Amelia location (see Figure 3).
Five years later, the Vogts had once again run out of manufacturing space, nor did they have much room to expand.
In the mid-1980s Cincinnati city officials were working with small companies to help fight off the flight of businesses to the suburbs. As a result, they found Tri-State a building on Kellogg Avenue, and the fab shop had a new home.
At least, the shop was OK until it needed more room again. The Kellogg Avenue building, built in the 1930s, used to be home to one of the area's many machine tool builders. It had ample office space, but the manufacturing room was eaten up over the next several years. Also, because it was very close to the Ohio River, there wasn't much room to expand. That's when the Vogts started to look for land in the suburbs.
Rick said the family searched aggressively in the early 1990s for industrially zoned land, which was going for about $30,000 to $35,000 per acre at the time. They really didn't have a lead on anything that met their criteria until a conversation was held with a customer at the time. That customer happened to have about 20 acres in Amelia, but it was off the road. Rick said the family didn't need to have road-side frontage because it didn't sell to the public, so it jumped on the opportunity to buy the land at a rate that was less than comparable land with better visibility to the main road.
"So my brother Jeff had a CAD package, and we did a layout for the whole building, which was 70,000 sq. ft. when we built it. Half of it was painting and powder coating, and the other half was metal fabricating," Rick said.
Tri-State moved into the building in 1996. From the start, the new setup had a major impact on business.
"We probably still had about 40 employees [when we made the move], but we still doubled our business over the next couple of years. Just having the building set up efficiently helped us a lot," Rick said.
The move also helped Tri-State avoid devastation. It still owned the building on Kellogg Avenue, but during this time it was being used for boat storage. On March 1, 1997, rain started falling in the area, and it didn't seem to want to let up. About 10 in. fell, and flooding was a problem for many in the area, but not so much for Cincinnati. That changed in the coming days as the Ohio River began to rise.
Rick said he and some others helped plug up the boats in the old manufacturing facility as best as they could. Water eventually reached the front door and kept coming, ultimately flowing 5 ft. inside the building.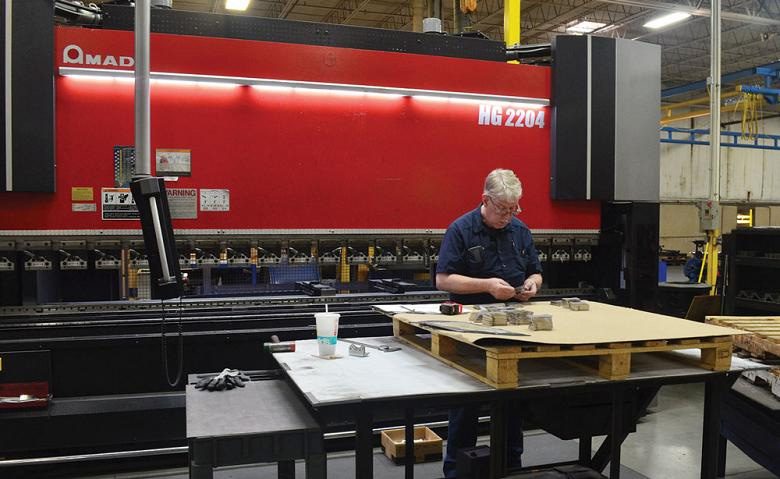 Figure 5
The Amada HG 2204 press brake has helped to boost Tri-State Fabricators' bending productivity.
Most of the boats escaped unscathed, just rising with the flood waters. Rick said his family wouldn't have been able to move all of the equipment out of harm's way had the shop still been at the Kellogg Avenue location.
"It would have wiped us out," he said.
Making the Most of the Space
Tri-State Fabricators has added on to its facility over the years since its 1996 move. The facility now covers 125,000 sq. ft.
The expansion has given the fabricator ample room to grow and try new things. For example, a few years ago Tri-State added a 4,000-W Amada FO-4020 CO2 laser cutting machine, which has an optional rotary axis for laser tube cutting.
One of the most important investments was the addition of a new 4,500-W Mitsubishi 3015 eX CO2 laser cutting machine with an accompanying 49-shelf automated material handling system (see Figure 4) in 2006. Situated on one side of the manufacturing floor, the automated storage and retrieval system gets ample amounts of raw material off of the shop floor and also provides the means to feed the laser overnight when no one is around.
"We've got a camera system on it where we can watch it at home on our cellphones if we want," Rick said.
The most recent investment was a 272-ton Amada HG 2204 press brake with just over a 14-ft. bed (see Figure 5). The 2-year-old brake, according to Rick, has a probe-style bend angle sensor that measures a bend to see if it meets drawing specifications and actually will adjust to deliver another hit until the part is at the right angle. This bend angle sensor, which helps to eliminate test pieces or rework, has boosted productivity in the bending area, he added.
That brake joins two other Amada press brakes in the bending department. They are a 125-ton RG-125 with a 10-ft. bed and a 50-ton RG-50 with a 6-ft. bed.
The ample floor space has given Tri-State the ability to take on assembly projects that other fab shops simply might not have the room to tackle. For instance, it once produced blower wheels for a local manufacturer, and even though that contract ran out, it still handles repairs for the blower wheels it once made. An area in the facility is dedicated to this activity.
Meanwhile, another area is dedicated to final assembly of valve products for another manufacturer that originally sought out Tri-State for its finishing services.


Figure 6
Owners of utility vehicles don't think twice about purchasing aftermarket parts, such as this roof and rear bumper, to make their utility vehicles stand out. Tri-State Fabricators launched Axiom Side By Side four years ago to put its fabricating skills to work in serving this recreational market niche.
"We pick up orders twice a week. They have 10,000-plus part numbers, so you never know what's coming," Rick said. The assembled valves then are sent all over the world from the Amelia facility.
The extra elbow room in the building helps potential customers see how their parts, or even extended operations such as final assembly, might fit on the Tri-State Fabricators floor, Rick added.
Keeping the Laser Busy
When that Mitsubishi laser with the material storage and delivery system was installed, the Vogts knew that they needed to keep it busy. With that in mind, they were always keeping an eye peeled for a business opportunity that might allow them to launch a product line that could diversify the business and help to occupy some of the laser's cutting capacity.
Inspiration hit Rick about four years ago when he went to a campground that catered to folks who owned side-by-side utility vehicles. (Imagine a cross between a golf cart and a monster truck.) People buy these vehicles to access and cover terrain that they otherwise might have trouble reaching. He had recently purchased one, but at the campground he noticed how everyone had tricked out their vehicles with aftermarket parts (see Figure 6), such as specialized roofs and rear bumpers. Rick realized that people might be interested in these products, and he had the means to fabricate and powder-coat the parts.
So the Vogt family launched the Axiom brand for aftermarket utility vehicle parts. An engineer was hired to design the parts (the company has about 50 products now). A website was created with e-commerce capability, and online presences, such as an Amazon store, were created. A corner of the fab shop is dedicated to stocking aftermarket products and to product development.
"A really good thing about this setup is we get our money right away. Nothing gets shipped out until it's paid for," Rick said.
A Firm Foundation for the Future
Rick admitted that he's having fun representing the Axiom line of products at tradeshows and even some racing events. It's something different from the past 40 years that he's spent inside fabricating things.
But that doesn't mean the Vogt family is resting on its laurels. It's got ample room on its 20-acre lot to accommodate possible expansion. Company leadership is investigating if waterjet or precision plasma cutting might make sense for them. There's been discussion of even setting up a separate facility next door for structural and heavy plate work. Rick added that the company is always looking out for another product line that may fit its production portfolio.
One thing's not happening, however. Rick said he's done welding sheet metal to create a paint booth.
The next generation of family leadership fortunately won't have to worry about that either. Good decision-making over the years has made in-house fabrication projects a choice, not a necessity.
Tri-State Fabricators Inc., https://tristatefabricators.com
Axiom Side By Side, www.axiomsidebyside.com
Amada America Inc., www.amada.com/america
Mitsubishi/MC Machinery Systems Inc., www.mcmachinery.com